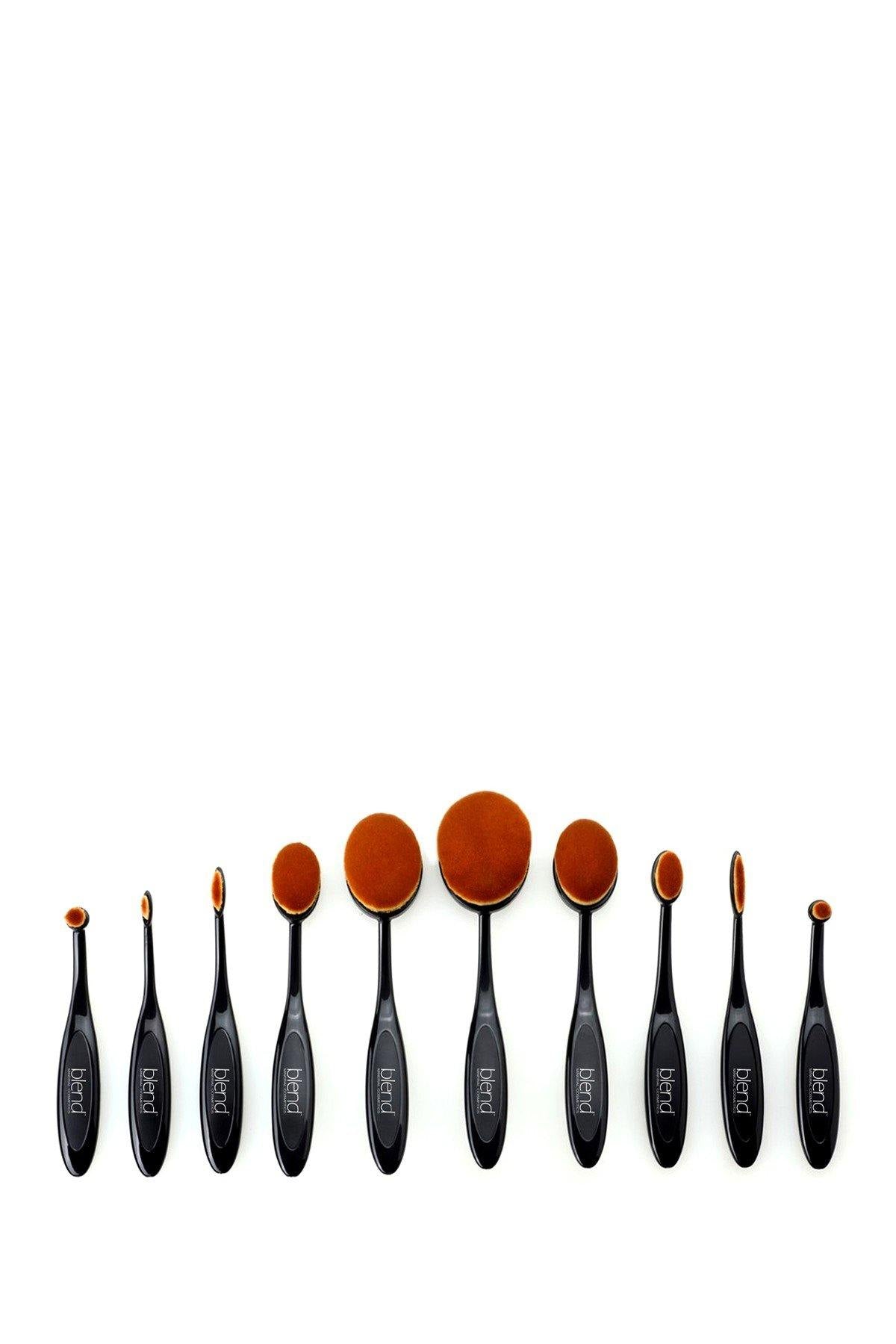 Artist 10-Piece Make Up Brush Set
Blend Mineral's brushes create the most precisely lined eyes, sexy smokey effects, contouring and more. You'll wonder how you got by without these application essentials! Best of all, this set is a stroke of beauty brilliance! Compatible with any type of foundation, BB Cream, powder, blush, etc. Super densely packed ultra fine fiber delivers streak free, flawless coverage. Oval, angular surface offers effortless application and seamless blending. Flexible tilted handle for precision and stability. Easily and beautifully crafted to blend foundation, powder, cream, fluid, moisturizers and primers seamlessly into your skin. Ultra soft and flexible to provide great care for your delicate skin.
- 10-piece set
- Color: black
- Set includes Soft Oval Makeup Brush, Foundation brushes, Crem contour Powder Blush, Concealer Brush
- Imported

Set Includes:
1. Lip Brush: 6.5" handle, 4.8cm bristle diameter
2. Eyeshadow Brush: 6.3" handle, 4.2cm bristle diameter
3. Brow Brush: 6.1" handle, 3.6cm bristle diameter
4. Eyeliner Brush: 5.8" handle, 1.8cm bristle diameter
5. Cheek Blush Brush: 5.5" handle, 1.2cm bristle diameter
6. Facial Contouring Brush: 5.5" handle, 2.6cm bristle diameter
7. Facial Highlighting Brush: 5.3" handle, 1.7cm bristle diameter
8. Nose and Eye Contour Brush: 5.1" handle, 1.2cm bristle diameter
9. Concealer Brush: 4.7" handle, 0.7cm bristle diameter
10. Foundation/Bronzing/Setting Powder/Skincare Brush: 4.7" handle, 0.7cm bristle diameter
Materials:
synthetic fiber brush
Care:
How to Cleaning Your Brushes:
1. Place brushes in warm water.
2. Apply a small amount of gentle shampoo to brushes and work into a light lather.
3. Rinse brushes thoroughly under running water. You will notice that the water leaving the brush is tinted from protective coating.
4. Continue rinsing until no color leaves the brush.
5. Allow it to air-dry.
Directions:
1.Pick up your choice of product with the brush; start applying the makeup from the center of the face.
2.Using a "Push and Pull" motion, glide the brush across the surface of the skin to blend.
3.Finish off blending with light, circular motion


699618253764